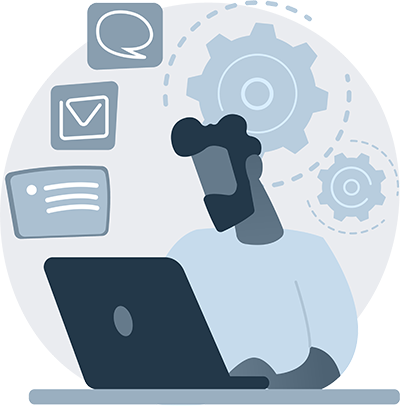 Streamline, Optimize, Automate
At NumaCorp, we specialize in custom management software for construction, industry and trades. Using our knowledge of the industry, business and management, we help our clients to streamline and automate every aspect of their operations from the office to the field.
Working with clients of various sizes and specializations, we have developed systems ranging from complete ERPs to custom project management, safety compliance, equipment management, human resource, estimating, digital forms, reports, mobile apps and more.
With 20 years of industry leading experience and expertise, we look forward to creating custom management software that will help to streamline, optimize and automate your business.

Automation as a Service
We think of management software and business automation as a customized service rather than a product or a pre-packaged solution. Every business is unique, their processes and workflow are unique, their structure and management are unique. Therefore, we must be able to provide a solution that's uniquely tailored to each business based on their specific requirements.

Affordable and Accessible
Business automation technologies should not be exclusive to enterprises. We believe that automation solutions should be affordable and accessible by all businesses. Using our decades of experience and expertise, we developed a unique method, process and platform which allows us to provide automation solutions to businesses at a fraction of the traditional cost.

Custom Development
Working together with the project managers and consultants, our team of highly trained and experienced programmers, system architects and UI/UX designers will be able to custom design, develop, implement, manage and maintain your management and automation system to ensure optimal performance, reliability and security in order to achieve your project objectives.

Service and Support
The evolution and transformation of a business can be disruptive and complicated. Change can be a daunting experience and that's why our consultants provide hands-on guidance and support every step of the way. From initial consultation through to development, implementation and on-going service and support, our entire team will ensure a positive experience.